From the CEO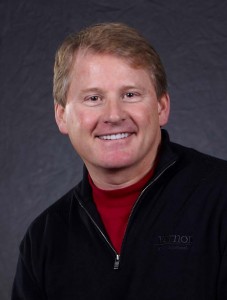 Today's turbulent economy and dramatic upheaval occurring in our financial markets makes dealing with strong and stable business partners even more critical. I want to assure you that The Vernon Company is one of the strongest and most financially stable distributors in the promotional products and graphics industries.
Our company was founded in 1902, by F.L. Vernon, my great grandfather. We are a 4th generation family-owned and managed business based in Central Iowa. We have grown over the years from a small, local graphics agency into a globally-recognized promotional design, marketing and manufacturing firm employing over 500 people and doing business throughout North America. We are large enough to handle any sized project, yet small enough to care about every client.
During our 100th anniversary, we discovered that Vernon is quite unique in our historical background:
"Vernon is one of less than 30 firms in the United States that is over 100 years old, has been continuously owned/managed by the same family without interruption and is in the same line of business as during its founding in 1902.  Less than 3% of family businesses survive past the third generation and under 1% survive past 4 generations. " – Norman Cohn, Chairman, ASI Companies
That's a truly remarkable heritage. Listed below are a few more facts we believe are important for our valued clients to consider:
The Vernon Company has been honored as one of ASI's Top 40 leading distributors (of 24,000 ASI-listed firms worldwide) every year since this recognition began over 40 years ago.
Vernon has consistently held the highest Dun & Bradstreet rating of AAAA1 in the promotional products and graphics industries for three decades. No other Top 40 ASI or SGIA business holds this outstanding credit history.
Vernon has an impressive revenue growth record and outstanding balance sheet - nearly $30 million in assets and ZERO long-term debt!  We conservatively manage our business for long-term success and remain structured to prosper and succeed in any economic environment.
Vernon has hundreds of terrific client partners who have entrusted us with their brand identity and marketing projects more than 30 years.
Vernon has invested over $5 million dollars in advanced web capabilities, ERP information technology and turnkey full digital printing services to improve our customer responsiveness and order cycle time.
Vernon diligently follows the most rigorous product safety and social compliance protocols with all of our trusted top supplier partners.  We protect your brand as diligently as we protect our own.
Vernon has been honored six consecutive years by ASI as one of the industry's Best Places to Work.
Vernon contributes over 5% of annual profits to 30 philanthropic organizations throughout our operating locations, and our employees are encouraged to take volunteer leadership roles in community organizations.
Vernon can manage complex global distribution and sourcing logistics.  Every order is guaranteed with our award-winning service. All Vernon employees are fully bonded and insured to provide outstanding service and protection for our client's valued brands.
We appreciate your trust in us and value your business. We will continue to work hard to bring you the most creative, cost-effective solutions for your marketing and brand identity programs.

Chris Vernon, MAS
President & CEO