Roma Tech Portfolio with Power Bank and Wireless Charger - UL Certified
Item #
VRN-206-LG250-39423495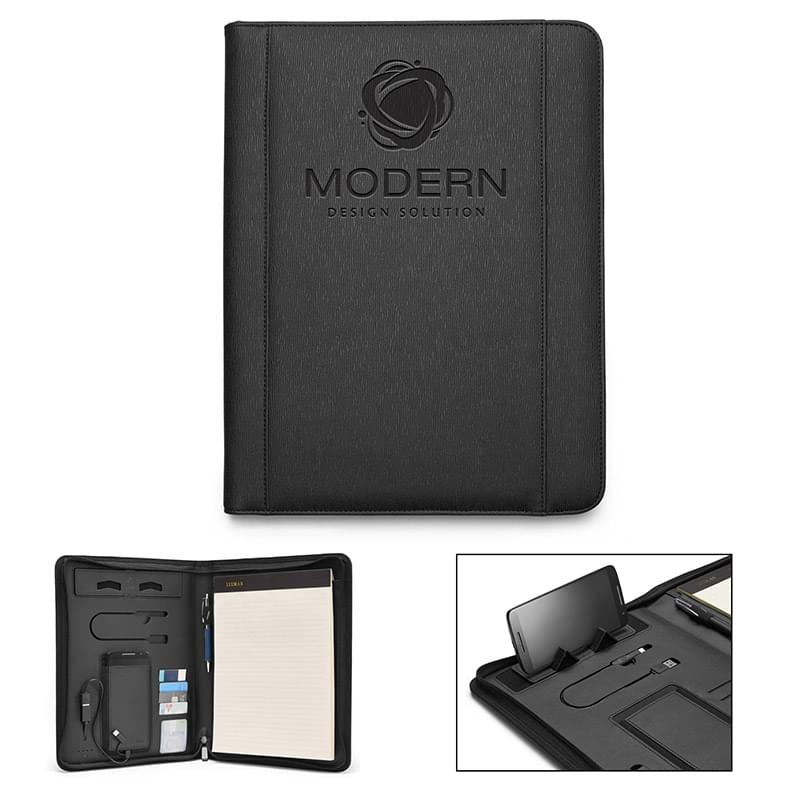 Request a fully customized quote
**A Prime Line® Exclusive!**
• Tech padfolio with built-in power bank and wireless charger and textured PU cover.
• Features front side pocket and 3 sided zipper closure.
• Power/Technology: Rechargeable Lithium-Ion battery; Capacity: 3.7V/5000 mAh; Input: DC 5V/2000mA (USB); Output: 5V/1000mA 5W (Wireless), 5V/2000mA (USB); Wireless charging distance: 6mm (approx. 0.2")
• Wireless charging mat feature is designed to charge most remote wireless charging enabled smartphones (including iPhones 8, 8+, X, XS and XR) and operates at lower temperature than most traditional chargers. Check your device specs for compatibility prior to purchase.
• Inside cover has power button, wireless charge pocket, 3-in-1 charging cable, phone/tablet stand, card case and pen loop.
• 3-in-1 TPE USB charging cable: USB to USB Type C and duo 5-pin and micro USB. Device is designed for charging only. Not data transfer enabled. Not an Apple® authorized product, use at your own risk.
• Also includes writing pad with approx. 20 lined white sheets. Writing pad can be replaced by those found in your local office supply store and measures approx. 8.25"w x 11.5"h
• Power bank must be charged prior to first use. Charge time varies by device.
•
• Note most cases must be removed from phone for wireless charging to work.
• Includes instructions and 3-in-1 charging cable
• FCC approved
• UL Certified (UL File # XX) **Shipping available via ground service only** WARNING: Refer to the item manual for safety and warning instructions.
Product Dimensions
10.12"w x 13.25"h x 1.5"d
Additional Notes
Packaging: Gift Box
Product Material
Thermo PU